Comments: 2 comments
I'm loving this cleanse! I'm trying all kinds of new recipes and expanding my horizons! It's not hard at all to go SGS-free as long as you are cooking at home. Eating out may prove to be a challenge, but I just have to pick a place where I know I can get food that is SGS approved.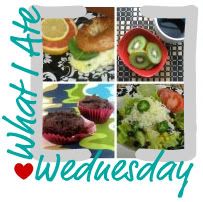 I started off the week with a delish salad of berries, heirloom tomatoes with a yuzu mustard dressing (photo in last post). Then I made a shepherd pie that had veggies and green lentils in the base topped with mashed potatoes. Then I got to making a peach blueberry crisp!
I used a touch of coconut nectar in the filling and the topping for a touch of sweetness. This is such a natural sweetener and low-glycemic so I made an exception for it. It was all gluten-free and delicious!
Last night I had another friend over that is doing the cleanse with me and we ate a feast! We started with a "Cream" of Tomato soup which is probably the best tomato soup I've ever made or had. I used cashews to make it creamy. Then we had a macaroni salad that I made with a cashew mayo and Mia brought over a raw kale salad. We were in heaven!!!
But the real treat was the pecan chocolate chocolate truffles and the hazelnut chocolate crispy bars I made. OH MY GAWD! They were date sweetened and mostly raw. You only needed a little bit to be satisfied. That's what I love about raw treats! I'd like to share one of these recipes with you today!!
Pecan Chocolate Coconut Chewy Balls
Makes about 16-22 balls (depending on size)
1 cup pecans, washed and drained
1/2 cup unsweetened shredded coconut
1/3 cup cocoa
1 teaspoon pumpkin pie spice
10 dates, pitted
1 tablespoon almond butter
Shredded coconut, for rolling
Preparation
Blend first 4 ingredients in a food processor until nuts are coarsely ground and no chunks remain. With blade running add the dates in one at a time. Then add almond butter and continue to blend until dates are thoroughly mixed into the nut mixture. If you can pinch together the mixture and it holds together in a ball than you're done blending. Place shredded coconut in a bowl. Take a tablespoon size amount of mixture and roll it into a ball. Then roll the ball around in the coconut. Place on a plate and continue with the rest of the mixture. Store in an air-tight container for up to 7 days.
So what have you been eating this week? Share with us!