Comments: 12 comments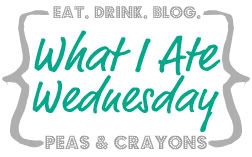 I've been seeing these blog posts all over the web lately, so I thought I would join in (but it may not be every week!). Not only does it help me to blog more (gawd knows I need the help!) and connect with other bloggers, but it allows me to be held accountable for what I'm putting in my body. I am a chef and educator, and I like the walk the talk. But my diet isn't always perfect or something I want to share with the world (gasp!). I try to live by the 80/20 rule, eating super healthy 80% of the time with the occasional treat. But sometimes I eat a big fat slice of pizza with Daiya cheese (pictured below, I did NOT eat that all by myself). Nobody is perfect and I've never claimed to be, but I try to do my best 🙂
So here is my first What I Ate (and drank) Wednesday post!
A. Monday, I made Pad Thai for my boyfriend and I and served it with a spinach salad topped with mango salsa I got from Whole Foods.
B. Then for dessert we had the Health Starts Here Chocolate Raspberry Tart from Whole Foods. This was the first time I've tried a HSH dessert, which means it contains no oil, no sugar, no animal foods, or processed foods. I love to be able to have a treat that is guilt-free on all accounts. It was sweetened with dates and it was really good, especially the crust. Keep an eye out for the Health Starts Here symbol at the salad bar and hot bar (and dessert aisle) for healthy, vegan meals at Whole Foods!
C. Tuesday, I had my usual morning smoothie in the morning with almond milk, frozen bananas, strawberries, spinach and chocolate Vega, but forgot to take a photo (I think we all know what a green smoothie looks like). Then for lunch I opened up my boyfriend's fridge to see what it held. He had some kale that he hadn't touched, and I had made some black rice the night before. So a raw kale salad was born with some of the mango salsa and a spoonful of black rice. I must say it was a super tasty lunch!
D. Then I had some green tea from Teavana. I really love a high quality green tea!
E. Last night we had a biz meeting with some peeps to discuss jobs for the Texas State Veggie Fair at Pizza Lounge where they have half-price specialty pies all night long. It's very expensive piece of pie otherwise, so it was nice to get some work done and chow on some fancy pizza. At least one had greens on it LOL.
So what have you been eating this week?